Losing weight can be quite a challenge for many people, especially when it comes to counting calories. While tracking your calorie intake is undoubtedly an effective way to lose weight, it might not be the best approach for everyone. Fortunately, there are other ways to shed those extra pounds without stressing over calories.
"Counting calories is honestly the last thing I ever think about."
One of the most straightforward and practical ways to lose weight without counting calories is by watching what you eat. This involves being mindful of what you put into your body and making healthier choices.
Tips on how to lose weight without counting calories
Choose whole foods: Instead of consuming processed or packaged foods that contain added sugars, sodium, and unhealthy fats, opt for whole foods such as fruits, vegetables, lean proteins like salmon and chicken breast along with complex carbs in moderation.
Eat mindfully: Eating mindfully means paying attention to your body's hunger and fullness signals while enjoying every bite of food you consume. This way helps prevent overeating as well as promotes better digestion.
Avoid liquid calories: Beverages like soda, juice, energy drinks have high sugar content which add up quickly in terms of calorie counts so switch them out for water instead.
Practice portion control: Use a kitchen scale to measure each meal's ingredients. For example, weigh a portion of salmon so you get the right amount of protein for your height, weight and age.
Plan ahead: Preparing meals ahead of time saves time and money while ensuring healthy options throughout the week. This helps you avoid the last-minute decisions on fast food which generally lead us astray from our goals.
Following these simple steps consistently over time will lead you towards sustainable weight loss results without having the need to count every single calorie consumed throughout the day!
You might enjoy a healthy mid-afternoon chocolate chip cookie made with low-glycemic ingredients including protein-rich almond flour & walnuts and sweetened with a zero-calorie sugar replacement.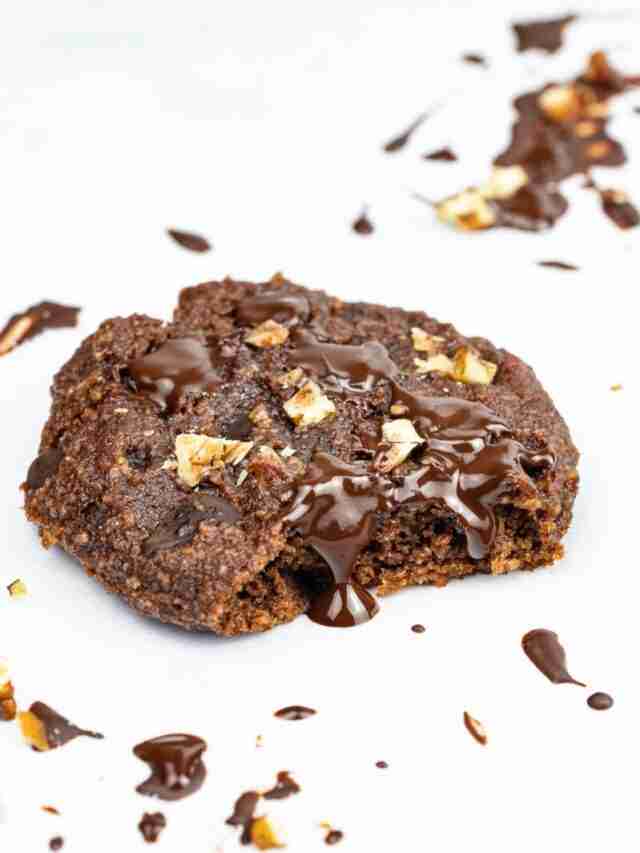 Here is an example list of what you could eat in a day if your goal is to lose or maintain weight
I am not a doctor or dietician. This is based on my personal experience and is basically how I maintain my weight as a middle-aged adult. I hope that it helps you structure your own food plan in accordance with your age, height and activity level.
Breakfast
Oatmeal – I recommend using a kitchen scale and weighing the ingredients, so you eat the same amount daily. For example, every morning my oatmeal consists of:
– Oats (40 grams)
– Psyllium husk (5 grams) – This is a fiber supplement that helps you feel full and also helps regulate cholesterol and blood sugar levels.
– Flax seed meal or spirulina (1 tablespoon)
– Nonfat milk (1 cup) – If you drink dairy-free milk in the morning, look at how much protein it contains. You may need to add another source of protein so you get enough protein.
– A few low-carb berries such as raspberries, blackberries or strawberries. By the way, blueberries are higher in carbs than the three I mentioned.
Two hard-boiled eggs with whole wheat toast and avocado.
Mid-morning snack
Apple slices with peanut butter
Baby carrots with hummus
Handful of almonds or walnuts (up to 28 grams)
Almonds or walnuts in a serving of nonfat Greek yogurt (i.e., 28 grams of walnuts or almonds plus 85 grams of Greek yogurt)
A homemade almond-flour based cookie or two.
An apple or pear. Note: Some fruits have more carbs than others. If you're trying to lose weight, you might want to look at a chart that presents the carb content of the various fruits.
"I make this every week: Tofu mayonnaise takes 5 minutes to make and tastes great as a sandwich spread or topped with veggies, tuna or sardines. It also makes a great salad dressing."
Lunch
Two slices of sprouted-grain Ezekiel bread smeared with avocado or tofu mayonnaise and topped with veggies, tuna, sardines or egg whites. Plus a side salad dressed with balsamic vinegar or homemade salad dressing. Note: I love Ezekiel bread, since it's genuinely nutritious, delicious and doesn't contain sugar or any other sweeteners.
A salad topped with roasted chicken or tofu.
Mid-afternoon snack
Fruit
Nuts (up to 28 grams)
A small slice of one of my healthy cakes
Celery with almond butter
Nonfat cottage cheese with fruit
Dinner
Grilled salmon fillet with roasted asparagus and sweet potato wedges – weigh the salmon on your kitchen scale to make sure that you're getting the right amount of protein. People often eat a lot more protein than they actually need.
Zucchini noodles topped with a piece of roasted chicken or fish or tofu – Zucchini noodles or "zoodles" provide a lot of fiber that leaves you feeling full. This is how I prepare zoodles: First, I make fresh zoodles using my Kitchen Aid Spiralizer Attachment. Then, I sauté some onion and garlic. Next, I stir in the zoodles, pour in a puréed red bell pepper, add some parsley and grated carrot as well as spices including salt, pepper and thyme. So, the zoodles only contain fresh vegetables and a portion of protein. You can season them however you like. I usually just use whatever's available in my garden.
Baked tofu – This is how I prepare it: I dice a package of tofu. Then, combine a 1/2 cup of almond flour, 1/2 teaspoon salt, 1/2 teaspoon pepper and 1/2 teaspoon paprika or cayenne powder. Next, I toss the tofu in the almond flour mixture and bake at 400 F on a baking sheet lined with parchment paper. If you use parchment paper, you don't have to oil the pan which saves you calories. After 10 minutes, check the tofu and flip some with a spatula, if needed. It should take about 20 minutes to bake the tofu. Serve with steamed vegetables.
Beverages if you want to lose weight without counting calories
Green tea or coffee in the morning – If you need to sweeten it, use a zero calorie sweetener.
Water – Drink a lot throughout the day.
Unsweetened almond milk – At some point in the day, I like drinking a glass of warm unsweetened almond milk, since it adds calcium to my diet.
Alcohol – Note that many alcoholic beverages are high in carbs and calories and therefore not ideal if you are trying to lose weight.
Of course, this list isn't exhaustive. There are plenty more healthy options out there that fit into a balanced diet. Remember: losing weight takes time – don't get discouraged! Celebrate small victories along the way while committing to making healthy choices each day.
Heart-healthy avocado replaces butter in many of my desserts such as Sugar-Free Red Velvet Cake or Healthy Carrot Cake.
Additional tips on how to lose weight without counting calories
Make a list of what you eat in a day
Spend a few days keeping a food journal. Look at what you eat. How much protein do you eat? Too much? Too little? How much added sugar is in the food your eat? Do you eat processed foods? Homemade foods? Are you getting enough calcium, vitamins, minerals? Are there items that you could clearly forgo?
Don't skip breakfast or any other meals
Skipping breakfast slows your metabolism. The Journal of College of Cardiology also found that US adults who skip breakfast are at a higher risk for heart disease. Having breakfast, in general, boosts your energy level for the day and also helps prevent type 2 diabetes.
Exercise daily – movement is key if you want to lose weight without counting calories
Movement is essential. I personally stretch every morning. Then, I make sure I walk at least 2-3 miles a day which is easy to track on a smartphone. I also swim two or three times a week, since it's a great way to exercise that is gentle on your joints. Tip: My doctor once told me that the best time to walk is after a meal, especially if you had a high-carb meal, since walking helps you burn carbs. Whatever you decide to do, daily movement is fundamental to weight loss and maintenance, but there's no need to overdo it. Just pick some activities that you can integrate into your life.
Avoid high-carb foods if you want to lose weigh without counting calories
Don't eat a lot of foods made with white flour. Your body converts white flour into sugar just as fast as table sugar and produces a similar insulin response. What this ultimately means is that eating white flour forces your body to store fat. So go easy on the pasta, pizza, white bread.
White rice also has a high glycemic index and quickly turns into sugar in your body. Moreover, it doesn't contain much fiber or protein. Quinoa is the better option since it's an excellent source of fiber and protein. However, to radically drop your carbs and calories, try cauliflower rice.
Make everything from scratch
It's easy to make homemade salad dressings or sauces. Then you know exactly what's in the food.
Prepare meat and fish without oil
If you're really trying to drop your calories, roast meat or fish or cook it in water on the stovetop.
Use a kitchen scale
My kitchen scale is one of my favorite kitchen gadgets. I use it all the time and can't emphasize this enough: Weigh your portions whenever you can. It's the easiest way to ensure that your body gets the right portions on a regular basis.
In restaurants, always have the salad dressing on the side
Salad dressing is often high in sugar and you never know exactly what a restaurant puts in it. So, ask the waiter to put it on the side. Or order a simple vinegar-based dressing.
So, that's it for my tips on how to lose and maintain weight without counting calories. Let me know how it goes! And remember: It's easier to say no than to lose weight.