There are so many kitchen appliances to choose from. One appliance I can't live without is the fabulous retro-inspired dough twirler: the Kitchen Aid Stand Mixer.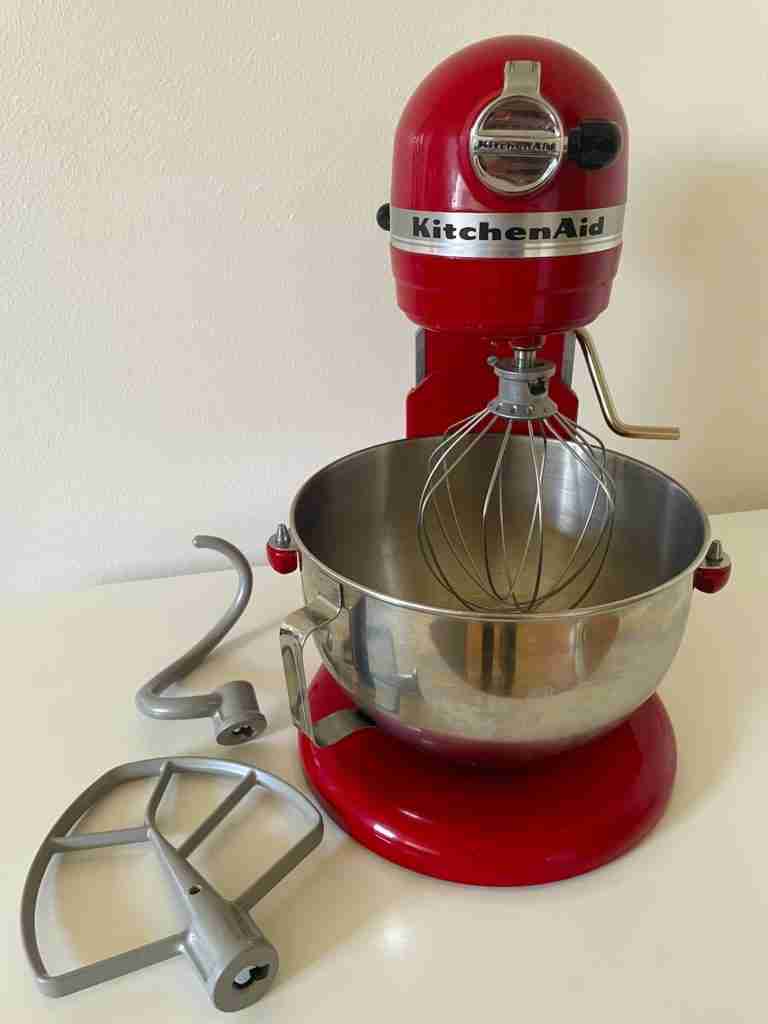 The Kitchen Aid Stand Mixer Is a Game-Changer
My life changed when the stand mixer arrived in my kitchen.
The Kitchen Aid Stand Mixer makes baking easier
Baking suddenly got a lot easier. The lovely stand mixer speeds up the task of mixing cake batters or making tart crusts. I also love using it to whip egg whites for one of my favorite healthy cakes: angel food cake. Not only does it make beautiful fluffy meringues but the 5-quart bowl is big enough to whip a dozen egg whites.
The kitchen is cleaner
When I started using the Kitchen Aid Stand Mixer, I happily observed that the kitchen was suddenly a lot cleaner. That's because everything ends up in the bowl.
The Kitchen Aid Stand Mixer comes with 3 handy attachments
I have the Kitchen Aid Professional 5 Plus which comes with a 5-quart bowl and 3 very useful attachments: a flat beater for mixing, a dough hook and a whisk. As a low-carb baker, I mainly use the flat beater and whisk. But I can tell you from cooking for relatives that the dough hook saves a lot of time. It makes it really easy to quickly make pizza and bread dough, since the dough just wraps around the hook.
Other amazing Kitchen Aid appliances
The Kitchen Aid Spiralizer Attachment
The Kitchen Aid Spiralizer Attachment is another fantastic kitchen appliance. Not only is it great for peeling and coring apples, but the ribbon slicer makes super-long continuous ribbons of fruit. The spiralizer also comes with a blade to make curly "spaghetti noodles" – I can't get enough of those yummy low-carb, gluten-free zucchini noodles ("zoodles").
The Kitchen Aid Immersion Blender
The Kitchen Aid Immersion Blender is another handy kitchen appliance that I use almost daily: to puree avocados for my cakes, to make soups and sauces, to make shakes and puddings.
These three Kitchen Aid appliances have made a big difference in my cooking. If you've been holding off on getting a stand mixer or one of these devices, just go for it!
Other articles you might like
You can also FOLLOW ME on INSTAGRAM, FACEBOOK and PINTEREST for more great ideas and recipes!