This milk jello recipe has all the richness and creaminess of traditional Mexican milk jello, minus the carbs and calories! Made with only a few simple ingredients, this jiggly gelatin cake with hints of caramel and cinnamon will shake for you. Not only is it sugarfree but it offers over 8 grams of protein per slice!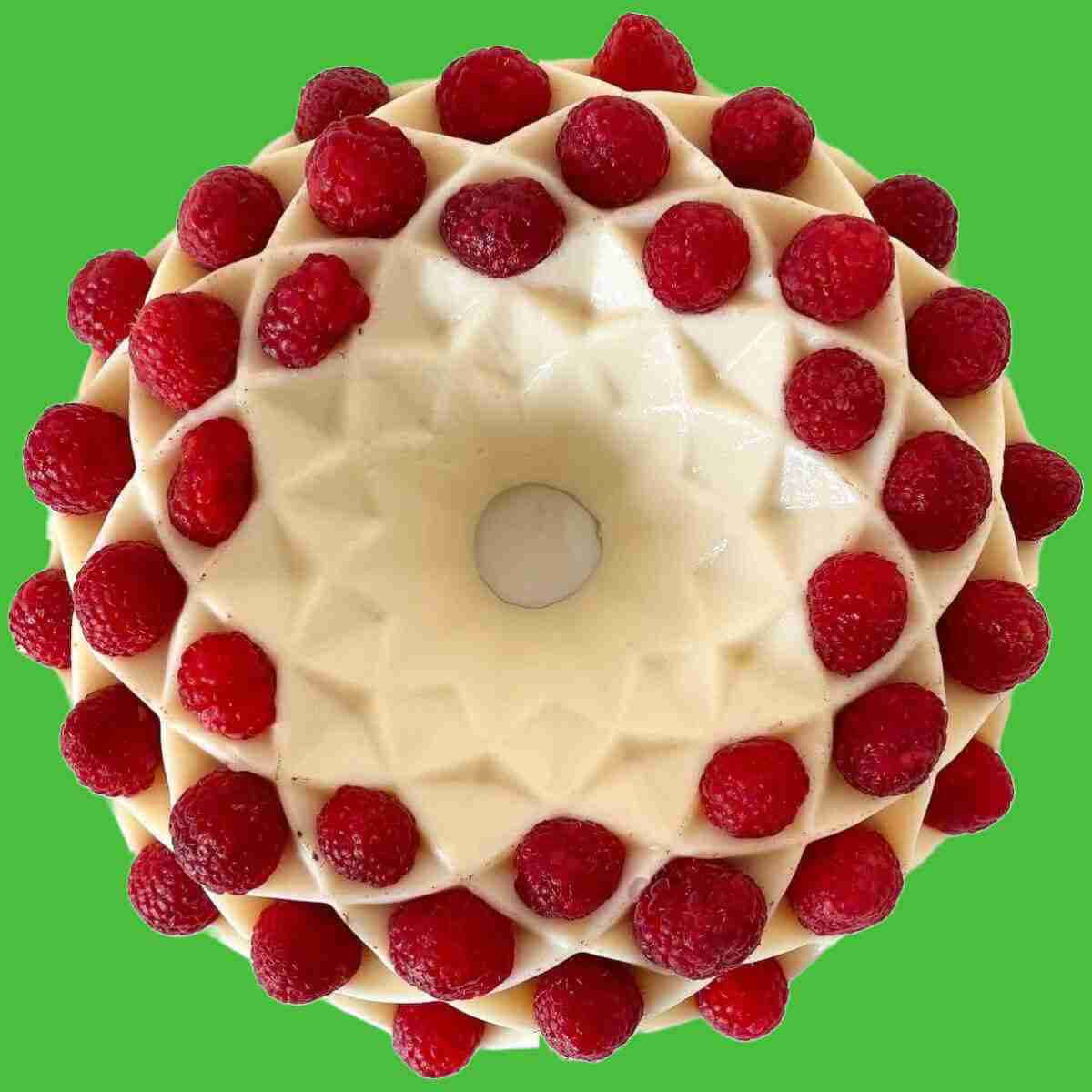 It was my Mexican father who revved my interest in milk jello. He's from El Paso, Texas, and basically remembered it from his childhood days working at his grandmother's grocery store. He's diabetic though so I swapped the sugary condensed milk for evaporated milk which doesn't contain added sugar. Then, I sweetened this jiggly treat with monk fruit, a natural, zero-calorie, sugar replacement. So, this Mexican jello recipe has a lot less carbs and calories than the regular version – and it's just as delicious.
You might also like my Homemade Strawberry Jello.
So many reasons to love this recipe
If you haven't tried it before, you really should, because Mexican milk jello is in a class of its own. Beautiful and delicious, it gets its unique flavor from evaporated milk which is a common ingredient in Mexican desserts. Moreover, it's like an intensely creamy cross between Italian panna cotta, pudding, and vanilla ice cream. So, if you like those desserts as much as I do, you're going to love milk jello.
An excellent dessert to serve at special occasions
I serve this gelatin cake a lot at birthday parties. It's definitely an attention-getter and people often don't know what it is. Then they try it and are totally hooked. Whether you top it with fruit or serve it nude, it's a mouthwatering creation.
Recipe notes and ingredients
Milk – I use lowfat milk.
Evaporated milk (doesn't contain added sugar) – I use regular evaporated milk.
White granulated sweetener of choice – I use Lakanto White Monk Fruit Sweetener, a natural, zero-calorie sugar replacement.
Heavy whipping cream – adds to the creaminess and also helps keep the carbs down in the recipe.
Cinnamon sticks
Vanilla
Gelatin
Spray-on canola oil – Spray the inside of the cake pan to ensure a smooth release.
Raspberries are optional, but they taste incredibly good with it.
Rompope liqueur (optional) – My dad loves pouring a little Rompope on his Mexican jello. Rompope definitely isn't sugar-free but a little goes a long way. If you aren't familiar with it, it's a cane liqueur from Mexico that comes in a bottle with a nun on it. After all, the nuns used to make it.
How to make this recipe
Milk jello is easy to make. Firstly, bloom the gelatin, i.e., put the gelatin in water for a few minutes and let it thicken. Then, add sweetener to evaporated milk. Next, heat the milk.
Then, add the sweetened evaporated milk to it as well as the vanilla, cinnamon and heavy cream.
Then just pour it in a mold or bundt pan and let it set.
Pro tips so milk jello releases easily from a bundt pan
You can make milk jello in a jello mold, bundt pan, loaf pan or bowl. I make mine in a Nordic Ware bundt pan and these are the steps I follow to ensure an easy release.
1. Spray the bundt pan lightly with Pam.
2. Pour the milk jello into the bundt pan and let it set overnight in the refrigerator.
3. On the next morning, using your fingers, gently pull the milk jello away from the sides.
4. Next, place the cake pan in a pot of hot (not boiling water) for 5 seconds.
5. Remove from water and put a serving platter on top. Then flip it. Note: After flipping it, you won't be able to move it to another plate, so choose a nice plate.
Recipe FAQs
Can I make milk jello in advance?
I recommend making it the night before serving it. In fact, I usually let it set overnight in the refrigerator and flip it the next day about 3 hours before serving it.
How long can milk jello sit out without refrigeration?
30 minutes unrefrigerated.
How long will milk jello keep in my refrigerator?
Consume within 5 days, since it will eventually start to get watery.
Can I make a smoothie or milkshake with milk jello?
Put a slice in the blender and add a shot of milk. It makes THE BEST milkshake. I'm not kidding.
What is Mexican milk jello made of?
It is made of milk, sweetened condensed milk, and heavy cream. When I make it, I replace the sweetened condensed milk with unsweetened evaporated milk which I then sweeten with monk fruit, a natural, zero-calorie sugar replacement.
Is milk jello keto?
This recipe is definitely on the low-carb and keto side with 8.9 grams of carbs per serving. The monk fruit and heavy cream help keep the carbs down in this recipe, and a slice only has 158 calories.
How to decorate Mexican milk jello
Use a pretty nonstick cake pan. For example, pictured is the Nordic Ware Jubilee Cake Pan.
Serve nude or topped with fruit such as raspberries which provide the perfect tangy counterpoint.
Dye it with natural or artificial food dyes.
Pour Rompope, an egg-noggy Mexican liqueur, over a slice. It contains sugar but a little goes a long way.
Kitchen equipment for this recipe
A sieve to strain the cinnamon
A nonstick cake pan or a jello mold or loaf pan or bowl
A large plate to flip the milk jello onto. I'd like to point out that after you flip it, you can't move the cake anymore. It has to stay on whatever plate it lands on, so select a nice plate.
2 pots, one to heat the milk and another one to heat the evaporated milk
A large pot, which is big enough to fill with hot water and place the cake pan in when you're ready to flip it. For example, I use a wok for this. It's important to put the cake pan in hot (not boiling) water for 5 seconds before flipping it, because this helps ensure a smooth release. Note that if you leave the pan in hot water for too long, the cake will melt.
How to store milk jello
To store it: Refrigeration is required. It's not a good idea to leave it out for more than 30 minutes. It will, however, keep for 5 days in the refrigerator. Please note that gelatin cakes are not suitable for freezing.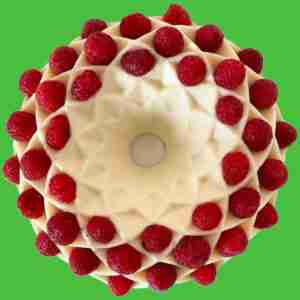 LEAVE A REVIEW
Milk Jello – EASY Sugar-Free Recipe
This milk jello recipe has all the richness and creaminess of traditional Mexican milk jello, minus the carbs and calories!
Equipment
1 nonstick cake pan

1 sieve

3 pots
Ingredients
4 envelopes gelatin 4 Tbs gelatin
3 cups milk I use lowfat
2 cans evaporated milk each can is 11.5 oz
1.5 cups white monk fruit I use Lakanto Classic Monk Fruit Sweetener
1.5 cups heavy whipping cream
2 cinnamon sticks
2 tsp vanilla
1 cup raspberries (optional decoration) Raspberries also taste really good with milk jello.
Instructions
Stir the gelatin into 1 cup water and let it thicken

Heat the evaporated milk and stir in the monk fruit until it dissolves

Heat the milk in another pan

Add the cinnamon sticks and simmer for 5 minutes

Remove the cinnamon sticks with a slotted spoon

Stir in the gelatin mixture until it dissolves and turn off the heat

Add the evaporated milk mixture to the milk

Add the vanilla

Add the heavy cream

Pour the mixture through a sieve and into a bowl or pot

Spray a nonstick cake pan with canola oil

Pour the milk jello into the cake pan and refrigerate for at least 8 hours. I let it refrigerate overnight

The next morning, use your fingers and on top of the pan, gently pull the milk jello away from the sides of the pan

Put hot (not boiling water) in a large pot (a wok works great for this) and put the cake pan in the hot water for 5 seconds. If you put it in longer, you might melt the milk jello. The idea is to loosen the milk jello from the sides of the pan.

Next, put a large plate on top of the cake pan and flip it. Be sure to chose a plate you like, because you can't move the milk jello afterwards.

Serve nude or top with berries. In Mexico, Rompope is often poured over a slice. Rompope is a Mexican vanilla liqueur and contains sugar.
Notes
Nutrition
Calories: 158kcal
Share on Facebook
Pin Recipe