This Sugar-Free Red Velvet Cake recipe is so yummy, topped with a decadent cream cheese frosting, pecans and raspberries. With the perfect moist crumb, this low-carb version will blow you away. With no butter or oil, this keto cake gets its silky texture and heavenly flavor from healthy, gluten-free ingredients.
The BEST Sugar-Free Red Velvet Cake
Not that I want to brag, but my neighbors in San Francisco love this cake:
This is saying a lot, but this cake may be your BEST yet! My 7-year-old granddaughter also proclaimed it to be the yummiest cake ever! – Larry in San Francisco
I am really struggling now with which one is my favorite – the chocolate kahlua cake or this one! This one is sooooo good! – Dolores in San Francisco
Whether you're on a keto, low-carb, sugar-free, diabetic or gluten-free diet, or just enjoy a healthy lifestyle, this is an unforgettable cake you absolutely have to try.
Also try Keto Coconut Cake.
The secrets to a great keto red velvet cake
Beetroot powder vs food dye
If you want the cake to have its traditional crimson color, you can either use beetroot powder or a flavorless red dye or gel such as AmeriColor Super Red Gel Dye. Unfortunately, leavening agents such as baking soda and baking powder react negatively with beetroot powder during baking, causing the vibrant magenta color to fade to brown. One solution is, however, to omit or significantly reduce the leavener and to instead whip the egg whites for volume and then fold them into the cake.
But I opted for the easier method which is to use red food coloring or gel dye. Gel is the more concentrated of the two, so you won't need as much of it. I have noticed that some dyes fade during the baking process but that gel dye fades less. In addition, I make this cake with avocado instead of butter, so the crumb is crimson red. If you want the cake to be a brighter red, just replace some of the avocado with butter.
Use quality cocoa powder
This is a unique, light chocolate cake which only contains 2 tablespoons of non-Dutched cocoa powder, so use a quality cocoa powder.
Use avocados instead of butter
I rarely use butter in my cakes anymore, because avocados aren't just a lot healthier. They also make cakes incredibly moist, tender and silky which is exactly the type of texture we're going for in a red velvet cake.
Prep your cake pan properly
I line 2 nine-inch cake pans with parchment paper and grease the sides, so the cakes release easily.
Or make Keto Chocolate Bundt Cake.
Ingredient notes for low-carb Red Velvet Cake
The cake
Almond flour – Naturally gluten free, opt for blanched or super-fine almond flour, not almond meal.
Cocoa powder – unsweetened, non-Dutched cocoa powder.
Baking powder
Baking soda
Salt
Avocados – You can replace some of the avocado with butter if you want the cake to be a brighter shade of red.
Granulated sweetener of choice – To make a low-carb, keto cake, you can use a zero-calorie, zero-carb sugar replacement such as monk fruit or erythritol.
Eggs
Vanilla extract
Apple cider vinegar
Low-fat buttermilk or unsweetened almond milk – You can also use unsweetened almond milk but the cake is traditionally made with buttermilk.
Flavorless red food dye or gel – You can also omit the dye!
Cream cheese – regular or low-fat
Vanilla
Butter
Milk or heavy cream – non-fat milk and even unsweetened almond milk
Powdered sweetener of choice
Other frosting & topping ideas
Chocolate-avocado frosting – also tastes great on this cake.
Cream cheese avocado frosting – Naturally green, this gives the cake holiday flair.
Pecans – taste great sprinkled on top of this soft, pillowy dessert.
Berries – Jewel-toned raspberries and strawberries add even more color and punch and complement the flavors.
Trending now Vegan Chocolate Cake.
How to make sugar-free Red Velvet Cake
This is a summary of the steps, so please see the recipe card and video below for the full instructions.
Preheat the oven to 180C/350F.
Mix the almond flour, cocoa powder, baking powder, baking soda, salt.
In a separate bowl, add the avocado purée and granulated sweetener and mix well.
Add the vanilla extract and apple cider vinegar.
Add the buttermilk.
Add the red food dye and mix well.
Then gradually add the dry ingredients to the wet and mix.
Pour in prepared cake pans and bake.
Cool & flip.
Frost & decorate.
Or try My Favorite Healthy Carrot Cake Recipe.
Q&As about Red Velvet Cake
Who invented red velvet cake? It isn't clear but it appears to date back to the 19th century. The Washington Post, for example, writes: "Red velvet has been on the menu at Stein's Bakery in Dallas since it opened in the early 1860s, according to baker Juan Alvarado, whose family purchased Stein's in 2002."
What kind of cocoa is in red velvet cake? It is made with non-Dutched or non-alkalized cocoa powder which gives the cake a light chocolate flavor and a crimson hue.
What flavor does red velvet cake have? It has a unique, light chocolate flavor.
Is a red velvet cake a chocolate cake? No, it has a lot less chocolate than a regular chocolate cake.
Should I sift the dry ingredients when I make red velvet cake? Yes, sifting the dry ingredients removes lumps and makes the cake fluffy.
How do I get even layers when making a layer cake? Use a digital kitchen scale and weigh each filled cake pan.
Why add cocoa powder to a cake? Since the 1800s, cocoa powder has been added to cakes to soften the flour and give cakes a finer texture. These cakes came to be known as velvet cakes.
When did red velvet cake become popular in the United States? In the 1920s, the Adams Extract Company in Texas was one of the first companies to produce red food coloring and attach a tear-off recipe card for the cake. Then, in 1943, it appeared in The Joy of Cooking. In the 1950s, it was also popular in NYC's Waldorf Astoria Hotel which claims to be the cake's birthplace.
Does a red velvet cake contain beets? Not necessarily, some recipes call for beets but it isn't clear whether beets were initially used in the cake
What to serve with this cake
Berries – I love topping this cake with raspberries. Strawberries also taste great on it.
Pinot Noir – If you're a wine drinker, Pinot Noir is said to bring out the chocolate undertones in red velvet cake.
You may also like Keto Chocolate-Walnut Cookies.
Kitchen equipment to make this cake
How to store your cake
To store: Refrigerate covered for up to 4 days. I highly recommend using a special cake storage container that clicks shut. Other options include an airtight plastic container or plastic bag.
To freeze: Freeze in a sealed container or bag for up to 3 months.
DID YOU MAKE THIS SUGAR-FREE RED VELVET CAKE RECIPE?
I'd love to hear your feedback. Please leave a comment/star rating ⭐️⭐️⭐️⭐️⭐️ below. And, of course, be sure to tag me on Instagram as I love seeing photos of the recipes you've made.
LEAVE A REVIEW
Sugar-Free Red Velvet Cake Recipe
This sugar-free Red Velvet Cake recipe is so yummy, topped with a decadent cream cheese frosting, pecans and raspberries. With the perfect moist crumb, this low-carb version will blow you away. With no butter or oil, this cake gets its healthy silkiness from avocados and fine almond flour.
Equipment
1 Handmixer or stand mixer

2 Cake pans

parchment paper
Ingredients
Dry Ingredients
3 cups Almond Flour 290 grams
1 ¼ cups Granulated Sweetener of Choice I use 245 grams of monk fruit.
2 tablespoons Cocoa Powder
3 teaspoons Baking Powder
1 tablespoon Baking Soda
½ teaspoon Salt
Wet Ingredients
1 ⅓ cups Pureed Avocados about 2 avocados: 282 grams of pureed avocado. I usually puree 2 avocados and have a little left over which I use on a sandwich or in a salad.
4 Eggs
1 tablespoon Vanilla
1 tablespoon Apple Cider Vinegar
½ cup Low-Fat Buttermilk or Unsweetened Almond Milk 125 ml
1-2 teaspoons Red Food Gel or Dye I add 1 teaspoon of red gel food coloring or 2 teaspoons of regular red food dye from the grocery store. Both fade slightly during baking, but the red gel coloring is stronger and doesn't fade as much.
Cream Cheese Frosting
16 ounces Cream Cheese
4 teaspoons Vanilla Extract
8 tablespoons Butter
6 tablespoons Milk or Heavy Cream
1 ½ cups Powdered Sweetener of Choice I use powdered monk fruit.
Topping
½ cup Chopped pecans To scatter on top.
Raspberries For extra decoration.
Instructions
Line 2 cake pans with parchment paper and grease sides.

Preheat oven to 350 F.

Mix almond flour, cocoa powder, baking powder, baking soda, salt.

In a separate bowl, add the pureed avocado, granulated sweetener, eggs, vanilla, apple cider vinegar, low-fat buttermilk, food dye, and mix well.

Gradually add dry ingredients to wet and mix.

Pour batter into 2 prepared cake pans and bake 25-30 minutes at 350 F.

Remove from oven and allow to cool 15 minutes in pan before flipping.

Let the cakes fully cool.
Cream Cheese Frosting
Put the ingredients in a bowl and mix well.
Topping
Top with chopped pecans and raspberries, if desired.
Notes
Red Velvet Cake with Cream Cheese Frosting, per serving, does not include pecans and raspberries sprinkled on top: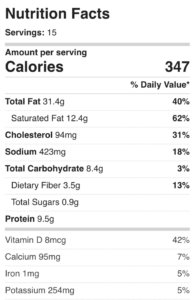 Did you try this recipe? Let me know @cathyscakesalon or tag #cathyscakesalon.
Nutrition
Calories: 347kcal
Share on Facebook
Pin Recipe