San Luis Obispo, often called SLO ("slow"), is undeniably one of my favorite cities in California. Originally from San Francisco, I had the good fortune of spending two years of the Covid-19 pandemic living in this charming city located along California's Central Coast. Known for its beautiful weather and scenic surroundings, it offers visitors a fabulous array of things to enjoy during their stay. So, join me as I take you on a tour of some of my favorite San Luis Obispo restaurants, hikes and hidden gems.
A sunny home in the Old Town Historic District in San Luis Obispo.
San Luis Obispo Restaurants
SLO boasts a diverse culinary scene with many San Luis Obispo restaurants offering locally sourced fresh ingredients. Popular options include Novo Restaurant & Lounge which features global cuisine in a romantic outdoor setting; Luna Red offering tapas-style plates and craft cocktails; Big Sky Cafe serving up farm-to-table dishes made with organic produce; and Goshi serving up authentic Japanese food in a pleasant ambience. Restaurants in San Luis Obispo will wow you!
San Luis Obispo Restaurants that are a must: That's really Giuseppe's Cucina Rustica
Whether you're on a date, out with friends, or need to find a restaurant to dine at with your parents while they visit you at Cal Poly, Giuseppe's Cucina Rustica is an all-time favorite with visitors and locals alike.
Located in downtown SLO a few steps from Mission Plaza, Giuseppe's fuses the old with the new. Situated in the historic Sinsheimer Brothers Store Building, this must-visit restaurant boasts sparkling, high ceilings, brick walls with huge black-and-white photos, a vintage scooter parked right inside as well as a long bar.
Giuseppe's also has a courtyard in back which delights diners with industrial décor, plants and the comforting sound of a fountain trickling in the background. Moreover, the courtyard is dog-friendly.
Giuseppe's Italian restaurant in the historic Sinsheimer Brothers Store Building. Built in 1876, it is the only building in SLO County with a cast-iron façade in the Venetian Renaissance style.
Authentic Italian food at Giuseppe's
Giuseppe's Cucina Rustica is basically perfect for anyone looking for authentic, mouthwatering Italian cuisine, including gelato and desserts made in-house. Established in 1988 by owner and Cal Poly graduate, Giuseppe DiFronzo, this family-run restaurant has been serving up classic Italian dishes that are sure to leave you satisfied.
The menu at Giuseppe's features a variety of traditional pasta dishes, including Spaghetti Carbonara, Linguine with Clams, and Fettuccine Alfredo. The pizza selection is also impressive with options like Margherita Pizza, Principessa Pizza (with 30-month proscuitto) or Gorgonzola Pizza. For those who like meat entrees, there are plenty of options such as Prime Rib-Eye and Pollo Basilico.
One standout dish at Giuseppe's is their famous lasagna. Made from scratch with layers of fresh pasta sheets and homemade marinara sauce, it's no wonder why this dish has become a fan favorite over the years.
In addition to their delicious food offerings, Giuseppe's also boasts an extensive wine list featuring both local and imported wines. Guests can enjoy a glass of red or white wine while taking in the cozy ambiance of the restaurant.
SLO Style: A home in the Old Town Historic District.
The public swimming pool in San Luis Obispo
If you need to work off all the mouthwatering food and drink you'll find in San Luis Obispo, just head to the fabulous, outdoor public Olympic swimming pool. The pool as well as a cozy 92-degree therapy pool are all located in the SLO Swim Center adjacent to the YMCA.
If you visit the pool, don't forget to stroll into the adjacent park and down to the railroad tracks where you'll find a trail which takes you to the historic San Luis Obispo train station where you'll find a train museum which offers a wealth of information about the history of the area. For example, did you know that Jack Kerouac worked as a brakeman for the railroad in 1953?
Tip: Park at the train station and walk to the swimming pool – it's about a mile.
Stroll like a local and take one of my favorite walks: from the SLO railroad station to the public swimming pool.
Restaurants near SLO's historic train station
As for San Luis Obispo restaurants near the train station, there are plenty of cozy, relaxed spots with outdoor seating. You'll find the retro-style Del Monte Cafe directly across the street from the station. Or head around the corner to Osos Street for Bon Temps Creole Cafe and My Thai.
The Del Monte Cafe made a conscious decision to retain the building's historical look, both inside and out. The building, in fact, dates to 1919 when it was opened as a barber shop.
Gyms with swimming pools in San Luis Obispo
Interested in joining a health club or getting a day pass? At Kennedy Club Fitness, you'll find an outdoor swimming pool, a hot tub, and all the activities you'd expect from a big gym.
But my favorite health club in the area is the charming Avila Bay Athletic Club & Spa which is nestled in the mountains above Avila Beach. The upscale club features two outdoor pools, hot tubs, tennis courts, a snack bar as well as a spa.
After a trip to the Avila Bay Athletic Club, you can hike, cycle or drive to nearby picturesque Avila Beach, where you'll find a pleasant pedestrian zone along the beach with shops and restaurants. To hike or cycle, just hop on the car-free Bob Jones Trail which runs adjacent to the club and takes you to Avila Beach (about 1.5 miles).
Avila Beach and Pier.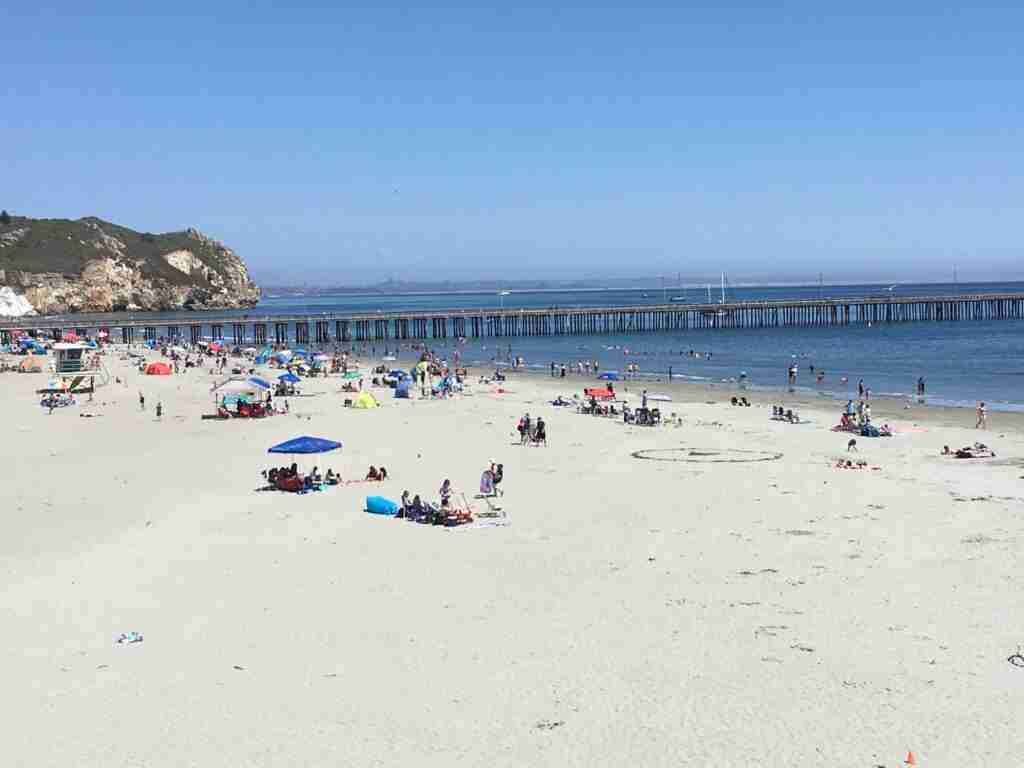 Ocean swimming in SLO County
Moreover, if you're an ocean swimmer, San Luis Obispo is surrounded by stunning beaches where you can soak up the sun or take a dip in the Pacific Ocean. Pismo Beach, Avila Beach and Morro Strand State Beach are, for example, three popular spots within close proximity to SLO.
Spyglass Park in Pismo Beach, California: a local favorite for a seaside stroll.
San Luis Obispo hiking & walking
Downtown San Luis Obispo
Downtown SLO is a quaint, walkable area with countless historical buildings, shops, restaurants, bars, museums, a mission as well as a river walk.
In fact, there's even live music in the plaza during the summer.
Moreover, every Thursday starting at 6 PM, you can catch the colorful Farmer's Market with over 100 vendors offering fresh produce, BBQ, delicious meals, crafts, baked goods as well as live music.
Stroll to the Dallidet Adobe & Gardens near downtown San Luis Obispo. Pierre Dallidet built the house in 1850 and is celebrated as the first commercially successful winemaker in SLO County.
The Dallidet Adobe & Gardens.
San Luis Obispo Mountain Hikes
If you love hiking, San Luis Obispo also offers countless hikes and trails. Cerro San Luis Obispo, also called Madonna Mountain, is the impressive mountain to the immediate west of Highway 101. There are a number of ways to hike up and around the mountain. If you hike to the very top, you will be rewarded with breathtaking views of San Luis Obispo and the Pacific Ocean which is about 12 miles away in the distance.
The breathtaking trail up Cerro San Luis Obispo.
The view from Cerro San Luis Obispo Mountain with the Pacific Ocean in the distance.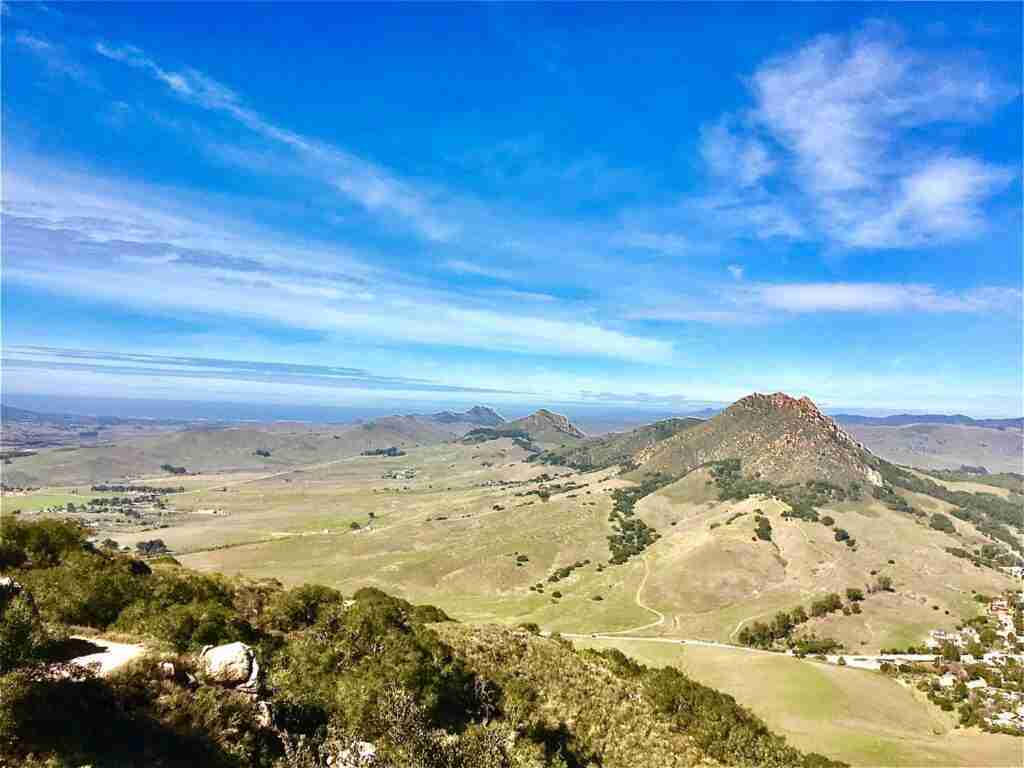 Insider's tip: Don't miss hiking to the Cal Poly Architectural Graveyard. Just follow Poly Canyon Road, a fire trail that takes you to Poly Canyon. Here, you'll find unique and quirky structures built by Cal Poly architect students over the years.
The Cal Poly Architectural Graveyard.
The hike, however, continues beyond the Cal Poly Architectural Graveyard. So, if you're feeling ambitious, you can hike up to the Serenity Swing where you can take in gorgeous views of the area. San Luis Obispo is simply a great place for hikes.
The author on the Serenity Swing high up in the hills above the Cal Poly Architectural Graveyard. To find the exact spot, just enter "Serenity Swing" in Google Maps.
The breathtaking view westwards from Serenity Swing. The hike was well worth it.
San Luis Obispo restaurants with dancing
In SLO, you'll find dancing in countless downtown bars and restaurants including Luna Red, Frog and Peach Pub, and Barrelhouse Brewing.
You can also, of course, dance to live music at some of the wineries in the area.
But don't forget to check out the world-famous Madonna Inn, a whimsical, must-see venue that is a sea of pink and kitsch. Pink walls, a world-famous bakery with giant pink cakes, theme rooms with names like Jungle Rock and Caveman, a men's room with a unique waterfall urinal, an elegant ballroom as well as fine and casual dining: The Madonna Inn is an experience unlike any other.
The Madonna Inn Ballroom also features live bands and a fun Lindy Hop night on Mondays organized by the SLO Rugcutters, a welcoming group of swing dancers. So, don't forget to cut a rug in this pink oasis.
You'll also find West Coast Swing, Tango and Salsa nights in San Luis Obispo.
There I am swing dancing at the Madonna Inn on a Monday night.
Live music in SLO
In SLO, live music is never far away. Besides the free live music in the Plaza series during the summer, you'll find all types of live music at bars, clubs, wineries, ballrooms, and in parks. There are also countless music festivals throughout the year. Check out the SLO Calendar for the latest live music dates.
The back of Frog & Peach Pub and music venue in downtown SLO.
Wine & wineries in San Luis Obispo
San Luis Obispo County is home to several award-winning wineries that offer tours and tastings. Drive out past the airport and you're in Edna Valley where you'll find wineries including Edna Valley Vineyard and Tolosa Winery. You'll find plenty of wine-trail signs pointing you to the various wineries.
Just a few minutes from SLO and you're in the Edna Valley wine country.
When you're in Edna Valley, don't forget to stop in Historic Old Edna – google "Sextant Wines" to find it. The former town hall is now home to Sextant Wines, a shop and deli which also offers outdoor seating. But don't forget to stroll through the grounds to see the historic buildings and stables. In fact, you can even rent the historic homes which are now run as a B&B.
Historic Old Edna, just a few minutes from San Luis Obispo.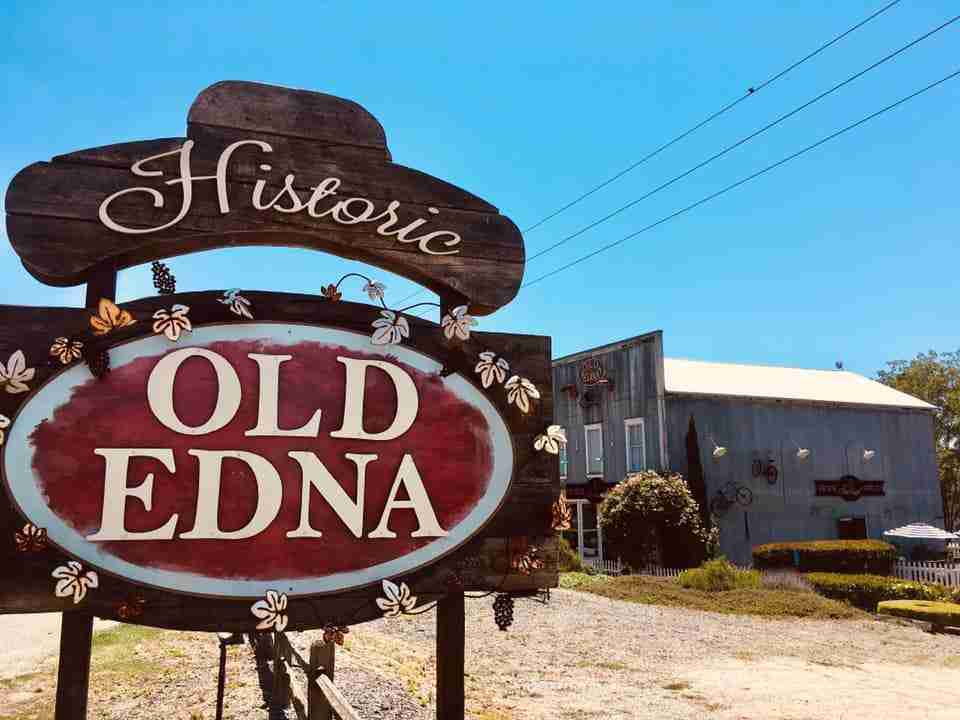 Sextant Wines in historic Old Edna.
The corrugated back of Sextant Wines.
Blue Belly Barn in historic Old Edna.
Excursions from San Luis Obispo
For outdoor enthusiasts, SLO County is heaven. Explore Morro Bay and Morro Rock. Then drive up Highway 1 to Cayucos, Harmony and Cambria. Visit Hearst Castle in San Simeon, and don't forget to enjoy the seals at Elephant Seal Vista Point.
Morro Rock in Morro Bay: The rock is part of a chain of 9 volcanic peaks that extend from San Luis Obispo to Morro Bay and are known as the 9 sisters.
Horseback riding in Morro Bay.
Montaña de Oro State Park
Visit Montaña de Oro State Park, a huge state park south of Morro Bay with countless trails. Don't miss Buchon Trail, a favorite with locals. The sublime, 6.6-mile, round-trip hike takes you down the jagged coast until you see livestock grazing on a hill and the Diablo Canyon Power Plant in the distance. In fact, the power plant emerges like something from out of a science fiction movie. It's simply really trippy and makes me think of the seventies movie Logan's Run. The nuclear facility is, however, scheduled to be shut down in the coming years. It will also be interesting to see how the county repurposes the grounds.
From the country to the coast, San Luis Obispo County has hikes. Below are the jagged cliffs on Buchon Trail in Montaña de Oro State Park.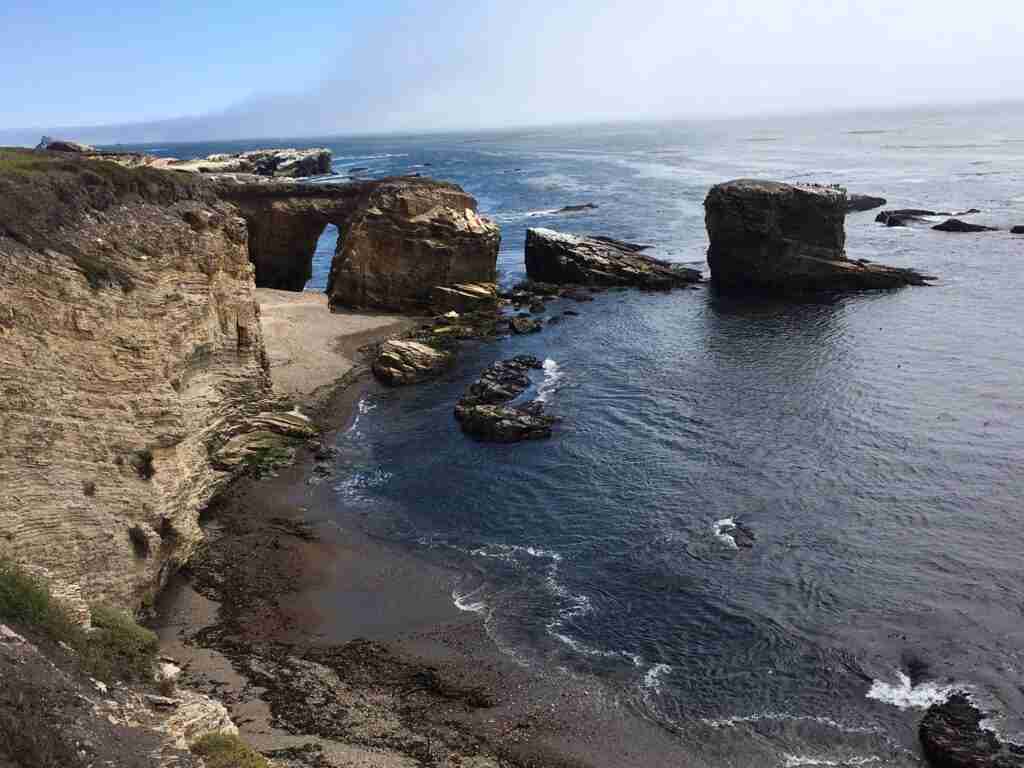 Harmony, California
Stop at funky Harmony, California, population 18: This is where Randolph Hearst stopped on his way to Hearst Castle to purchase fresh milk products. These days you'll find the Harmony Valley Creamery's truck parked here offering udderly awesome ice cream.
One of these colorful pinwheels from Harmony Glassworks spins in my garden.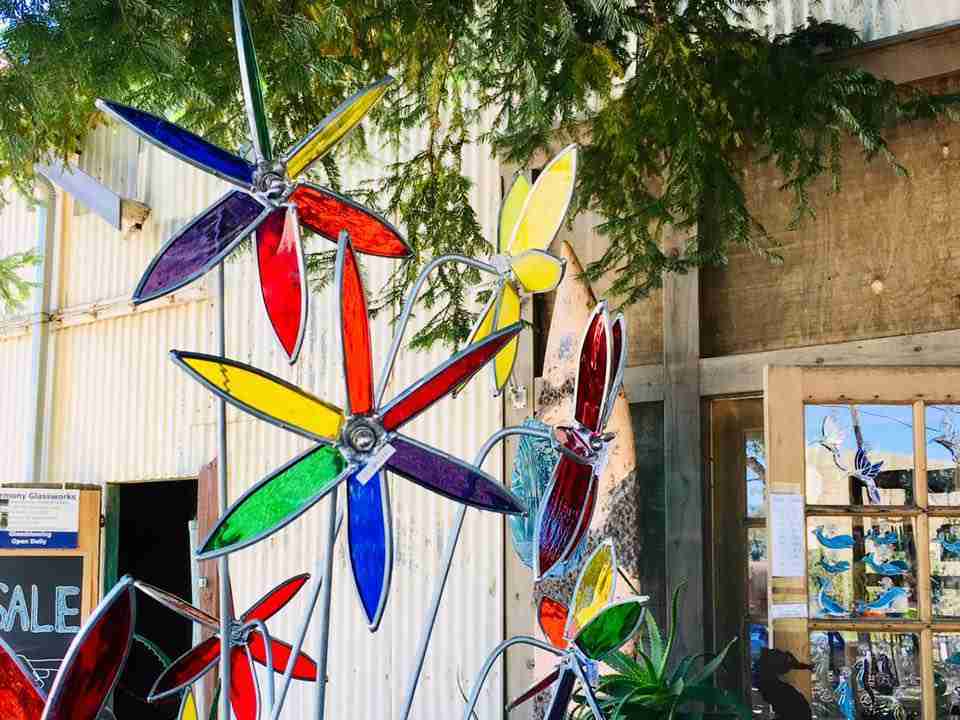 The Harmony Wedding Chapel.
Water sports in Morro Bay, Avila Beach and Port San Luis
You can rent kayaks or paddleboards at Morro Bay, Avila Beach and Port San Luis. Boat tours and fishing charters are also available.
Pirate's Cove also called Cave Landing or Smuggler's Cove
This is one of my favorite places to visit in San Luis Obispo County. In fact, it's really the first place to stop on a trip to Avila Beach and Port San Luis. So, before you reach Avila Beach, be sure to drive up Cave Landing Road which takes you to a coastal parking lot directly above the cave. From here, soak in spectacular views of San Luis Obispo Bay and the coastal communities of Avila Beach, Port San Luis, Pismo Beach and the dreamy white dunes of Oceano in the distance.
Then hike down to the legendary cave which was used by bootleggers and smugglers during the Prohibition Era to smuggle booze into SLO County. You can also hike down to a clothing-optional beach in this quaint bay which isn't overrun with tourists. Indeed, most people heading to Avila Beach have no idea that this place exists.
Pirate's Cove: A hidden gem in SLO County. Below you can see straight through the cave. Cave Landing Rd takes you to the bluff directly above the cave where you can park.
Historic Port San Luis Harbor
Off the beaten track, you find Port San Luis Harbor when you drive to the end of Avila Beach Drive. Another favorite spot of mine, railroad tracks used to run from the harbor to downtown San Luis Obispo. Built in 1878, you'll find the port's history posted along the pier. But, in short, it was used in the 1800s to export the county's dairy products as well as grain and cattle.
Today, Port San Luis Pier is a great place to soak up gorgeous views of the bay with its fishing boats and sea lions. In fact, it feels like you're in the Mediterranean somewhere.
When you're at Port San Luis, you can rent kayaks and paddle out to the tip of the bay, where, around the bend, you'll find the historic Port San Luis Lighthouse. Note: The only way to visit the lighthouse is by kayak or if you book a tour. That's because the tour bus has to cross PG&E property to get there.
At Port San Luis Harbor, you can also book fishing tours and rent stand-up paddle boards.
Mersea's Seafood Restaurant at historic Port San Luis Harbor.
Paso Robles and Cambria
There are several nearby towns worth exploring if you have some extra time during your visit to SLO. Paso Robles is known for its wine country charm while Cambria offers quaint shops and delicious seafood restaurants along the coast.
Dinosaur Caves Park near Pismo Beach
If you want to skip the heavy tourism of the Pismo Pier area, head to the Dinosaur Caves Park. You'll find a dinosaur-themed playground, but that's not why I go here. It's easy to park and you can enjoy a gorgeous coastal walk on bluffs above the Central Coast's infamous sea caves. If you want to see the caves up close, book a kayak tour.
Be sure to continue along the coast past the gazebo and you'll eventually find some stairs that take you down to a tiny beach – go on a weekday and you'll have it to yourself. I love this part of Pismo since it's utterly picturesque and not overrun with tourists.
For history buffs: In the 1940s, a brontosaurus was erected here. Visitors could pay 25 cents to enter the brontosaurus and go down a stairway to visit the "Caverns of Mystery." The brontosaurus then burned down in the 1960s and a playground was eventually erected in its place.
A kayaker in a sea cave at Dinosaur Caves Park.
Cayucos: A surfer town with a western vibe
To the immediate north of Morro Bay, Cayucos is unquestionably a great place to stop for a snack or a stroll through town or along the beach.
Cayucos Pier.
The main drag in Cayucos.
A surfer on Cayucos State Beach.
Cass House at sunset: A Cayucos B&B that dates from 1875.
An abandoned structure on the northern side of Cayucos.
An ode to Cayucos' past.
In conclusion, San Luis Obispo has something for everyone whether you're looking to relax on the beach, explore local wineries or dance the night away. With so many activities and nearby towns to visit, it's no surprise that SLO is a popular destination among travelers.
Trending now
How to Lose Weight without Counting Calories
St. Petersburg, Florida, Is Easy to Visit without a Car!
Need some healthy treats for your hikes?
Healthy Chocolate-Walnut Cookies
Protein Zuccini-Walnut Muffins