Mayonnaise is a staple condiment for many people, but for those who are vegan or have egg allergies, it can be difficult to find a suitable substitute. Enter Tofu Mayonnaise – a creamy and delicious alternative that is naturally vegan. You definitely won't believe it's made from tofu. Whether you follow a plant-based diet or not, this recipe is worth trying out. And the best part? Tofu mayo only takes five minutes to whip up!
Trending now: How to Lose Weight without Counting Calories.
Why try Tofu Mayo or vegetarian mayonnaise
Tofu mayo is an easy, healthy alternative to traditional mayonnaise that provides a delicious and nutritious option for those who are health-conscious or have dietary restrictions. It is made from tofu, which is rich in protein, calcium, and other important nutrients.
Or try Protein Zucchini-Walnut Muffins.
From sandwiches to salads, you'll want to drizzle this flavorful condiment on everything
Besides putting tofu mayonnaise on sandwiches and salads, it's simply delicious as a spread on its own or topped with veggies such as red peppers and cucumbers. It's also great in tuna salad or smear it on salmon. So if you're looking for a healthy alternative to mayonnaise, just give this plant-based, egg-free condiment a whirl!
Or make a golden yellow Chickpea Flour Pie Crust for your next pie or quiche.
Tofu mayonnaise is ready in a snap
It only takes 5 minutes to make tofu mayo. This plant-based condiment even lasts up to a week in the refrigerator, so you can use it throughout the week.
You might also like Vegan Chickpea Brownies.
The ingredients for Tofu Mayonnaise
Tofu – One 16 oz. container of tofu. Personally I like to make this with firm tofu which yields a thicker mayo that makes a great sandwich spread. But silken and medium tofu also work. Just be sure to drain the tofu so your mayo isn't watery.
Apple cider vinegar – 3 tablespoons
Olive oil – 4 tofu mayonnaise
Granulated sweetener of choice – 1 tablespoon. Instead of sugar, you can also use a zero-calorie sweetener.
Dijon mustard – 2-3 teaspoons. I recommend initially adding 2 teaspoons. Then, add an additional teaspoon after mixing the ingredients, if necessary.
Salt – 1/2 teaspoon. This is a low-sodium condiment.
How to make vegan Tofu Mayonnaise
Firstly: Put the ingredients in a bowl and purée with an immersion blender or simply purée the ingredients in a blender.
Secondly: Taste and adjust the ingredients if necessary. This is where I might add another teaspoon of Dijon mustard. Use immediately or transfer to a jar and refrigerate for up to 1 week.
Common questions about vegan or vegetarian mayo
What is vegan mayonnaise made of?
The main ingredients are tofu and oil. Regular mayonnaise, on the other hand, mainly consists of eggs and oil. Vegan mayo is, however, an excellent substitute for regular mayonnaise.
Is homemade plant-based tofu mayonnaise better for you?
Yes, it's cholesterol-free and made with healthier oil. It can also be sugar free if you opt to make it with a natural zero-calorie sugar substitute. On the whole, homemade vegan mayo is lower in calories than its regular counterpart.
Is tofu mayonnaise good for diabetics?
It sure is, especially if you make it from scratch and use a zero-calorie sugar replacement.
What is the healthiest mayonnaise?
The healthiest mayo contains olive oil or avocado oil.
What's a healthy substitute for mayo on a sandwich?
If you don't want to use mayonnaise, fresh avocado is a healthy option to smear on your bread. You can also purée avocado so it spreads easily.
Is vegan mayonnaise healthy?
Yes, homemade vegan mayonnaise can be very healthy.
Is vegan mayonnaise gluten free?
Yes, this plant-based mayo is gluten free.
Is vegan mayonnaise dairy free?
Yes, it is made with plant-based tofu instead of eggs.
Is vegan mayonnaise high in cholesterol?
There's no cholesterol in this vegan tofu mayo recipe.
Or try 5 minute Vegan Blueberry Pudding.
Kitchen equipment for vegan Tofu Mayonnaise
A blender or immersion blender
How to store Tofu Mayonnaise
To store: Just put it in a jar or container with a lid and store for up to a week in the refrigerator.
You can also FOLLOW ME on INSTAGRAM, FACEBOOK and PINTEREST for more great recipes!
LEAVE A REVIEW
Vegan Tofu Mayonnaise Recipe
This vegan tofu mayonnaise recipe is a must-have condiment. Super yummy and super healthy, it's ready in 5 minutes. It doesn't contain any eggs or sugar, so it's a lot healthier than regular mayonnaise. Perfect for sandwiches, wraps, and salads!
Equipment
1 immersion blender or blender
Ingredients
1 16 oz. Tofu: Firm, Medium or Silken Be sure to drain it, so your mayo isn't watery. The mayo is thicker with firm tofu and thinner with soft tofu. I prefer making it with firm tofu.
3 Tbsp Apple Cider Vinegar
4 Tbsp Olive Oil
1 Tbsp Granulated Sweetener of Choice: Sugar or a Zero-Calorie Sugar Replacement
2 tsp Dijon Mustard After blending, you might want to add another teaspoon Dijon mustard.
1/2 tsp Salt
Instructions
Put the ingredients in a bowl and purée with an immersion blender or simply purée the ingredients in a blender.

Taste and adjust the ingredients if necessary.
Notes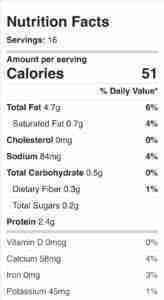 Nutrition
Calories: 51kcal
Share on Facebook
Pin Recipe
Share by Text